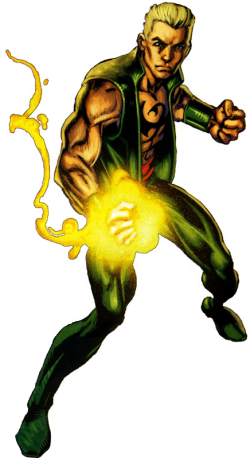 Name: Huanglong, goes by Titus
Codename: Dragon Fury
Age: 19
Height: 6'5"
Weight: 170lbs
Hair: Blonde
Eyes: Brown
Skills: Master at several martial arts including T'ai chi ch'uan and most styles of Kung Fu.
Powers: Dragon Fury is able to channel and control his chi.
Bio
Titus was found abandoned by a martial arts master. The master called him Huanglong (Yellow Dragon) because of his hair and the dragon mark on his chest and trained him in all his martial arts. As he aged the master noticed a rage in the boy he had come to think of as a son that he could not contain. When the master took on another student who showed more skill than Titus he became jealous. His jealousy eventually overcame him and in a fit of rage he killed both his 'father' and his student. He fled to the US where he became muscle for hire and started going by the name Titus and using Dragon Fury as his codename.
Name: Silverback
Height: 7'
Weight: 800lbs
Eyes: Red
Hair: Black
Skills: Genius in many scientific fields, Expert in hand to hand.
Powers
Class 50 strength
Superhuman durability
Enhanced senses
Silverback is a very powerful telepath his main field of telepathy though is mind control. He is capable of taking control of people's minds forcing them to do his bidding, transferring his consciousness into other beings or creating psionic blasts
Low level telekinesis
Bio
Silverback is a fugitive of Gorilla City wanted for many crimes, including attpmting to over the hiddent city. He has sense moved on to trying to conquer what he considers the lesser primates aka mankind. He has invented several different devices that he uses in his attempts to subjugate all humans including a helmet that enhances his telepathic abilities. He has joined with the Fearsome Five hoping to use them to further his own ambitions.

_________________
Those who ignore hstory are doomed to repeat the mistakes of the past